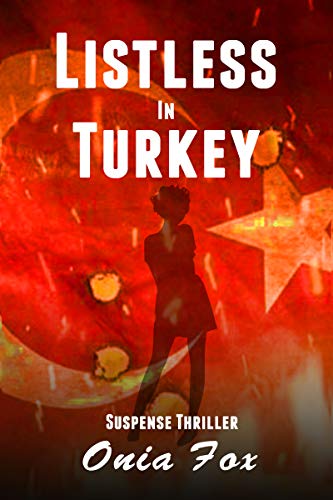 Christmas comes around again, and it must be a good year after the last one. We wish you a wild abundance of tinsel and turkey, speaking of which, in the spirit of the season our featured author this week is Onia Fox, with her brilliant book Listless in Turkey: geddit? But more of that later.
(From Sooz: Really? Groan! Right on the BBE wavelength. You'll do.)
Christmas advertising is in full swing on the TV, festive wreaths on the front doors around the neighbourhood and coloured lights festoon the trees and bushes of gardens. There's carols on the radio whenever I switch on. It creates a wave of nostalgia that takes me back to a childhood memory of the Salvation Army band setting up under the lamppost opposite our house. The heavenly carols they played set against the earthly voice of my father, who turned off the lights and made us hide behind the sofa pretending we weren't in because we didn't have any money to give when they knocked. Ah, those innocent childhood memories.
It's nice to see that Christmas traditions endure, although Christmas 2021 is different, though potentially better than 2020, but not like the world before Covid. We all waited with bated breath for Christmas morning to see if Santa'd been. Nowadays it's waiting to see if we'll have a Christmas morning, if it isn't snatched away from us at the last minute like the Formula One championship was snatched away from Lewis Hamilton by questionable regulations last week.
Speaking of sport, there's plenty of it to watch sitting around feeling full on Boxing Day, which brings to mind the Women's Football match mentioned in last week's blog. I view this as a downside of gender equality in that there's twice as much footie on the TV now . To quote a pioneer of the Women's Liberation movement whose name escapes me, 'That's not what I meant.' Ho, ho, ho.
Nice to see that the modern tradition of The-Present-To-Buy-Before-It-Sells-Out continues unabated, with Covid Lateral Flow Tests already unavailable from a Government website near you.
Let's talk about that Office Party; or not. I'm no fan of politicians of any persuasion, but all I can see in that picture is Boris sitting at his desk with two aides at a reasonable distance from him. Okay, one is wreathed in tinsel, but I've worked in many offices where there's always someone walking around in a Santa hat or reindeer antlers well before the big day. But let's face it, even if it was on Zoom, which isn't illegal, it looks boring. Some party. What would stir things up would be the picture Boris took sitting wasted and bare-cheeked on the photocopier; but maybe he had that one turned into a Christmas card to send to Keir Starmer and the rest of the Opposition.
On the subject of Covid, my own Christmas habits have changed. For years I've chosen animated e-cards over the traditional ones. They cost less and can be sent and received in seconds, a definite plus with an expensive and slow postage system which can take five days to deliver first-class—never mind second. I like a few real cards around the place, as do some of my friends, so I compromise and send e-cards to some and the real thing to others.
This year, though, I posted the envelopes and then received an email from a friend. His family had been for PCR tests as his young grandson had tested positive for Covid. Sympathy came first, , but then another thought occurred. I'd sent them a card, had they sent me one? Shock. Horror. A card from people who probably had Covid was winging its way to me, potentially infecting everyone who handled it enroute. What to do when it came through the letterbox? Put on disposable gloves, carry it carefully and dunk it in a bucket of disinfectant to soak for a few days before hanging it out to dry? It's one thing to take precautions with everything that comes through the door, but when there's one you're 95% certain is infected It's like Santa calling with a nasty bout of Anthrax.
The problem resolved itself: the family is clear, apart from the boy, who will be back to himself in time for Christmas, all being well. It makes you think though, doesn't it? It's a tick in the box for ecards.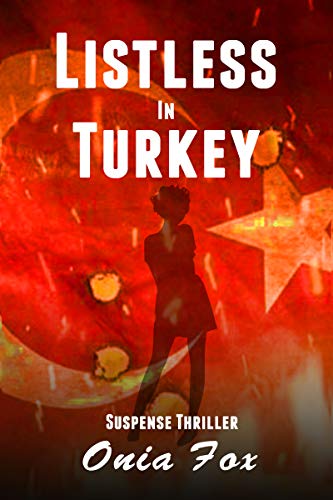 On which note, if the thought of tinsel, turkey and all the trimmings in a northern-hemisphere winter doesn't do it for you, but the hassle of travelling abroad in Covid World is too much, then you need another type of escape, though Onia Fox's excellent Listless in Turkey.
Laura Lyndhurst's review of Listless in Turkey by Onia Fox (5*)
Jess is a mess. Missing work one time too many through being ill with a hangover, she alienates her employer; ignoring her boyfriend whilst flirting with other men, then screaming obscenities at him because he doesn't want to go clubbing with her, she alienates him; and being so far behind with her rent that she's forgotten how much she owes, alienates her landlord. When the inevitable results of her behaviour hit, she does what anyone would do in like situation— she goes on a road trip around Europe, funded by her redundancy payment.
She gets herself ejected from the Louvre as a security threat, insults a tourist in Verona with a crass comment and gets into various sexual situations, not least with one Belgi and various other assorted travellers who she meets enroute, including an older Turkish man named Albay—and that's where things move along an unplanned road.
It's clear from the above that, if we ever met, Jess and I would not be friends; but I have to congratulate author Onia Fox for creating her. She's rude, insensitive and frighteningly casual about her personal security. She's the sort of person we see too often in our society, keeping the media and police in employment. Her story is a fantasy dreamt of by many, to throw over the traces and just go, hit the road and travel where your fancy takes you. It reads like a publication for the Turkish Tourist Board, as Jess's travels through the country. She shows us the terrain, the people, the food and the drink, in a positive light—but there's a dark side, as Jess finds out, to her cost. Which is why I managed to find some sympathy for her by the end of the book. She may be flawed, but she's all too human in that. Recommended.
When you've read and loved Listless, you can follow it  stright up with  Enemy Closer 
Enemy Closer is the second suspense thriller in the Jessica Taylor series – following Listless In Turkey. Also in the series is the stand-alone lockdown erotica, Covid Blues And Twos. The timeline, and a few names, are changed to protect the guilty and to facilitate this page turning novel. Otherwise, the plot is worryingly accurate and true to life. Onia Fox is a pen name.
People are seldom who they seem – keep your friends close, but your enemies closer
Jessica has no intention of returning to Turkey after her previous brush with the law, but circumstances conspire to dilute her resolve. Her friend, and senior colleague, calls in some favours. An old dalliance makes a welcome appearance. And her husband sidles up to his attractive colleague.
To the backdrop of the real-life shooting down of a Russian jet fighter on the Turkish-Syrian border, and the many infighting groups involved in the ongoing Syrian civil war, Jessica charges in.
Enemy Closer is a factually accurate, believable, page turning procedural suspense thriller.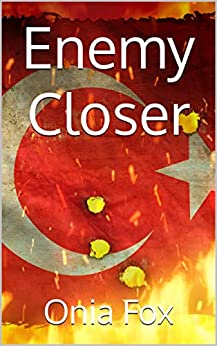 And if that isn't enough of an Onia Fox fix for you,  put on some asbestos gloves and read the raunchy and tnatalising Covid Blues and Twos.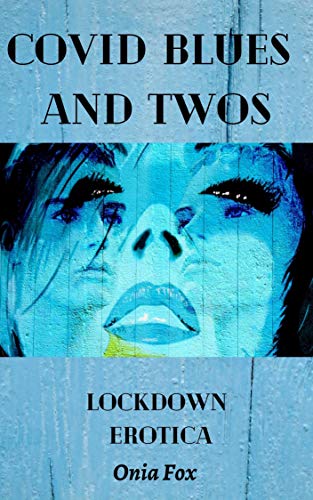 Onia joined BBE's Client list with her order for  a couple of book trailers.  You can iew her excellent trailers here.
Listless in Turkey https://youtu.be/wvcUvuGrZ4g
And because we had a new designer in training (namely Katherine) we also gave her a free one to intersperse with her marketing and promotion. Listless in Turkey https://youtu.be/OQ20yT0Ug9E
Enemy Closer. https://youtu.be/B-nCSel6gsQ
And here's what BBE thought of Listless in Turkey.
Onia can be found regulalry on the  best book editors Facebook group and we love her wit and humour. You can find the same great spirit channelled through Jessica in her books.
Many thanks to Laura for a fantastic first blog–we'll even forgive her for the terrible Turkey joke (I'm actually jealous)  More from Laura next week when we showcase the lovely Brigitte Morse-Starkenburg in the first of her Sensorian series. –as long as we have her book  trailer completed by then –if not, it will be the fabulous Grace Grahme. and her latest book Fair Play.
You can check out Laura's fantastic thriller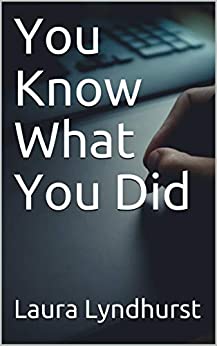 However, this isn't her only rodeo, and we'll show you her other books on other blogs.
Website
https://www.bestbookeditors.com/
https://www.bestbookeditors.com/latest-news/
https://www.bestbookeditors.com/books-by-katherine-black/
https://www.bestbookeditors.com/what-you-get-for-your-money/
https://www.bestbookeditors.com/book-formatting-and-typeset/
https://www.bestbookeditors.com/book-cover-design/
https://www.bestbookeditors.com/illustrations/
https://www.bestbookeditors.com/marketing-and-promotion/
https://www.bestbookeditors.com/author-publisher-logo-design/
https://www.bestbookeditors.com/book-trailers-promo-videos/
https://www.bestbookeditors.com/author-interviews/
https://www.bestbookeditors.com/shop/
https://www.bestbookeditors.com/request-a-quote/
Facebook page
https://www.facebook.com/Best-Book-Editors-102025145430197/
Facebook Group
https://www.facebook.com/groups/625104781821119/?notif_id=1635265103733738&notif_t=groups_member_joined&ref=notif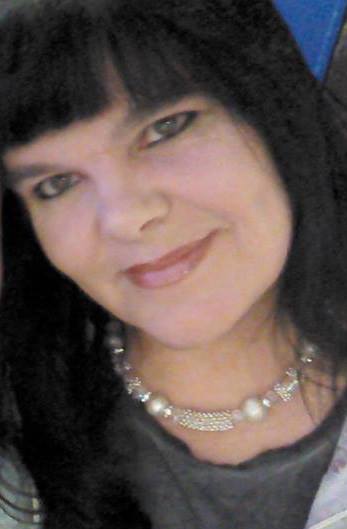 Katherine Black / Susan (Sooz) Simpson
Founder of Best Book Editors
Katherine has held almost every single job imaginable, from painting gnomes to zookeeper. She spent most of her life in the caring profession and has managed both a nursing home and a care agency. But her passion for the written language always brings her home to novel writing.
Born in Tyne-and-Wear, North-East England, she has settled in the beautiful Lake District, Cumbria, with her partner, two dogs, a cat, an iguana and a python (just don't ask her which of those six things is her favourite!).
She specialises in content creation and social media outreach, and has been a developmental editor for hundreds of clients. She owns and operates bestbookeditors.com where she helps foundling authors polish their skills. However, after being diagnosed with a dramatic brain condition in 2022, she has had to let 23 staff go, and scale back the business. BBE is still very much open, we are just fewer and can't take as much work on.
Katherine Black is the author of psychological thriller/detective/fantasy adventure novels.