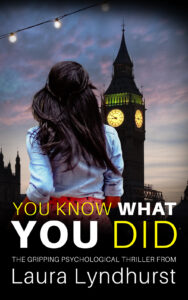 Well, here I am, still writing blogs for BBE, which might not surprise you, but it does me. Recently, things have been fractious between me and Sooz, the boss, given that she took umbrage at some of the jokes Yours Truly has been putting out in these, at her expense, she says. It doesn't make her look good in front of the clients. She said on our Skype meeting, 'I did make the company rules clear when you signed up, and as for that dig in the Q&A session on my Featured Author day—"Can I have a pay rise?" indeed. I'm looking for your resignation.'
'Sooz,' I told her, 'I don't think that's practical. You've got a mountain of work at the moment, all that editing and marketing, not to mention the book trailers and covers—including those you did for my booksYou Know What You Did. I've apologised. I took it on the chin when you made me pay a fine by docking my wages. I'm deeply humbled by the experience, but it's just not the right time for me to go, so I think we should put it behind us and move on.'
'Are you smirking?' She looked at me with suspicion from her end of the screen.
'Absolutely not. The signal's bad. Your screen must be breaking up.'
She saw it my way in the end. I think I'm Prime Ministerial material.
Here we are, though, all loved-up in a co-worker's way, the second time around. Not quite like Holly and Vlad in Tracey Gerrard's excellent Ain't Nobody series, which I've been reading recently until my curiosity forced me to read her equally-excellent Let Me, in which there's an interesting boss-worker dynamic between Zach and Jennifer. But more of that later.
The second time around for books is a good thing too. I'm giving my books a tidy-up on the advice of the boss and her thirty-plus years of experience in the business (all hail, Sooz). I'm appalled at some of the things I'm finding in there. For example, I've found that I overuse the words former and latter. This was pointed out to me by hubby—it's only taken him two years to read my books—and he's right. A search showed them twenty-five times in one book, but a bit of work, and that's down to five times. And as for my use of semi-colons, don't go there.
I'm very grateful to everybody that's read my books and given them glowing reviews, making allowances for all the little things like that. A professional edit is a good idea. Even if you can't stretch to the full editing service, the 'Nip & Tuck' service offered by Best Book Editors will tidy things up and give you markers about what can be improved. It's an excellent service that many authors are taking advantage of. Whether you go for the former or the latter of those options, it's got to help (yes Sooz, I know, I did it on purpose, humour and all that. Whatever!) It shows how blind authors are to our own foibles, and another pair of eyes on the manuscript—that we're so familiar with but is brand-new to them—makes all the difference.
The second time around then, like Holly and Vlad of author Tracey Gerrard's happier books, or maybe the altogether darker experience of Jennifer in her Let Me? I had to give Jennifer some support, and now I'm scurrying back to Holly and Vlad. Whether dark or light, it has to be said that this author creates some compelling characters, which you can check out in my reviews below.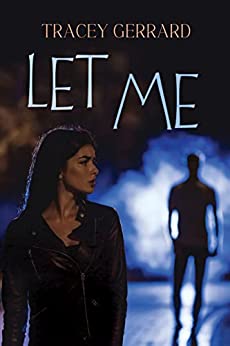 Laura Lyndhurst's review of Let Me
Jennifer's life has spiralled out of the light and into the darkness. But her mother's desertion and her heartbroken father's death have left her with few choices. Working long hours as a waitress at The Dark Rooms is far from making the white wedding dresses she wanted to design.
Without enough hours in the day, Jennifer isn't there for Joshua as much as he needs. She's forced into being the guardian of her younger brother. He's vulnerable to the wrong influences and falling into a life of crime without her parents.
She's caught the attention of Zach, owner of The Dark Rooms and with a personal preference for the dominant-submissive services his club facilitates for his clientele. He's attractive but self-reliant, and Jennifer finds it difficult to trust him or anybody else and rejects his advances.
They hit a stalemate as the word no doesn't appear in Zach's vocabulary.
The consequences of Joshua's illegal activities impact Jennifer. She's brutally beaten by a man Josh owes money to. After a two-year stretch in the big house, he's back and looking for payback.
Can Jennifer overcome her inability to trust Zach when he reaches out with an offer of help?
Expect suspense, thrills and erotic romance before finding out whether Jennifer can beat her darkness and return to the light. Recommended.
And the official BBE Review of Let Me. 
Laura's Review of When We Dance (Ain't Nobody Series Book 1)
Second-time around romance for a later-in-life pair with assorted baggage for them from author Tracey Gerrard.
Holly kept a low profile for a year, following a ten-year marriage which cost her a career. She didn't have to give up working at the bank, but who wants to be confronted by their ex and his new squeeze?
A trip to the beautician for massage and makeover is followed by an outing to the hot nightclub Eruption, where Holly gets her groove on. It includes an impromptu dance—which doesn't leave much to the imagination—with a fit young guy who's up for some fun. But that's just the starter.
A few nights later, at a hen party for her friend Chloe, Holly repeats the performance with added attitude, this time with Vlad, the owner of both clubs. He's knocked sideways when he sees her. One massive mutual sexual attraction later, matters between the pair almost go too far. Self-control comes into play, ensuring that it isn't just a one-off.
Vlad has his issues, including three grown sons and one almost-teen from a marriage gone west, which is what Russian Vlad has done in moving to the UK. The deeply-possessive jealousy shows itself as their relationship develops. One acrimonious divorce later, Vlad is never getting involved with a woman again. Sex will do for him, but that was before he met Holly, and he's determined to make her his.
Author Tracey Gerrard opens her Ain't Nobody series with this fantastic book. Expect hot action, nightclubs and sex, along with romance and some family blending as Holly and her friends establish a relationship with Vlad and his boys. The story builds at a measured pace, building to the climax and the will-they, won't-they ending.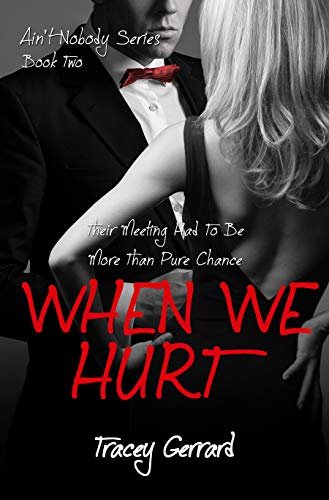 Laura's Review When We Hurt (Ain't Nobody Series Book 2) (5*)
It was all going so well for second-time-around Holly and Vlad. Social gatherings were abundant, and everyone was hitting it off well, his family and her friends. Despite the hurt in the past, it looked like a happy ending was imminent—with one of Vlad's establishments hosting their wedding.
In the space of minutes, things changed.
Holly tried to shed an unwelcome dance partner while Vlad saw things that weren't happening. He saw red and lost it—losing  Holly in the process. The texts and voice mails from the bottom of a whiskey bottle aren't getting her back.
Vlad's son Lucas gets the couple speaking again, but the past's dark demons must be addressed before Vlad can move on.
It's a shady and murky backstory with Vlad's fears of losing Holly if he opens up to her. Can she overcome her reaction to his revelations? The family and friends are onside to help.
But is it enough?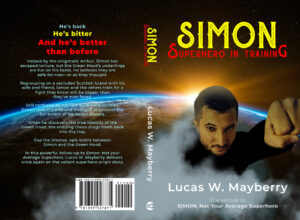 Thanks, Laura—cheeky mare. Be gone with you. Go back to your manacles in the dungeon crawling with nasties in the bowels of BBE Towers. Er, I mean the sub-eds office. I don't know—take the gag off, let them speak, and this is what we get from them. We love each other really and have never had a single cross word.
Seriously though, I can't thank her enough for what she does. I have been working my chewbaccas off lately—but so have the girls.
We have staff training sessions every week, and we assess each of their areas of excellence. Johanna has upped her training sessions, and her work saves me hours.
I've just completed two books on the bounce that didn't have the first edit by the girls because they all had work on, and I've done all three edits myself. Oh my, the difference in the weight of work is pronounced. Jo's editing is coming on in leaps and bounds.
Laura is great on the first edit, too—however, she's got a different level of excellence. Her proofreading is second-to-none, and she can spot a typo at a hundred paces. The woman is to proofreading what prunes are to—oh, never mind. How many books have you just taken your red pen through, 3, 4 this month?
The point is, things have been crazy around here. We've shot through a phenomenal amount of work in the past week, and it's great to see everybody busy. The only area that isn't rushed off their feet is the illustrators. Please get in touch if anybody would like bespoke, hand-drawn illustrations for their book or covers.
We have got editing and proofreading (second passes) bursting out of the seams. It's time to bite the bullet and take on another sub-ed or two—but it means going back to training—Day One.
We've also done our showcased author Tracey Garrard's book Trailer.
And Marketing for Life package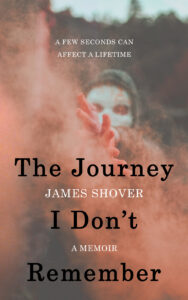 We've boxed off book covers for James Shover, Lucas Mayberry, Stephen Glick and Laura Lyndhurst in the last week—though Laura hasn't seen hers yet. I'm holding them back to show her the full three-book series.
We've done a Trailer for Lucas Mayberry. It's one of the most fun videos we've made.
We have marketing packages and media/press packages to complete.
And…. I'm going to Ireland on holiday this week
for my best mate, Peter Merrigan's Wedding.
Website
https://www.bestbookeditors.com/
https://www.bestbookeditors.com/latest-news/
https://www.bestbookeditors.com/books-by-katherine-black/
https://www.bestbookeditors.com/what-you-get-for-your-money/
https://www.bestbookeditors.com/book-formatting-and-typeset/
https://www.bestbookeditors.com/book-cover-design/
https://www.bestbookeditors.com/illustrations/
https://www.bestbookeditors.com/marketing-and-promotion/
https://www.bestbookeditors.com/author-publisher-logo-design/
https://www.bestbookeditors.com/book-trailers-promo-videos/
https://www.bestbookeditors.com/author-interviews/
https://www.bestbookeditors.com/shop/
https://www.bestbookeditors.com/request-a-quote/
Facebook page
https://www.facebook.com/Best-Book-Editors-102025145430197/
Facebook Group
https://www.facebook.com/groups/625104781821119/?notif_id=1635265103733738&notif_t=groups_member_joined&ref=notif
LinkedIn Group
https://www.linkedin.com/groups/12659537/
Email
katherine@bestbookeditors.com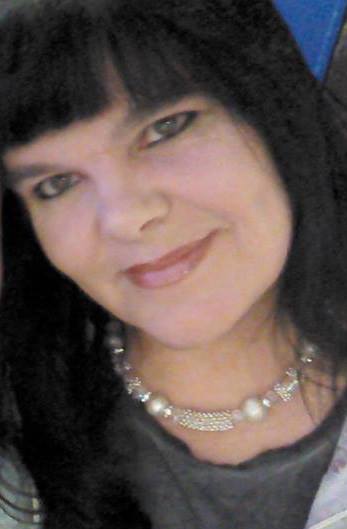 Katherine Black / Susan (Sooz) Simpson
Founder of Best Book Editors
Katherine has held almost every single job imaginable, from painting gnomes to zookeeper. She spent most of her life in the caring profession and has managed both a nursing home and a care agency. But her passion for the written language always brings her home to novel writing.
Born in Tyne-and-Wear, North-East England, she has settled in the beautiful Lake District, Cumbria, with her partner, two dogs, a cat, an iguana and a python (just don't ask her which of those six things is her favourite!).
She specialises in content creation and social media outreach, and has been a developmental editor for hundreds of clients. She owns and operates bestbookeditors.com where she helps foundling authors polish their skills. However, after being diagnosed with a dramatic brain condition in 2022, she has had to let 23 staff go, and scale back the business. BBE is still very much open, we are just fewer and can't take as much work on.
Katherine Black is the author of psychological thriller/detective/fantasy adventure novels.