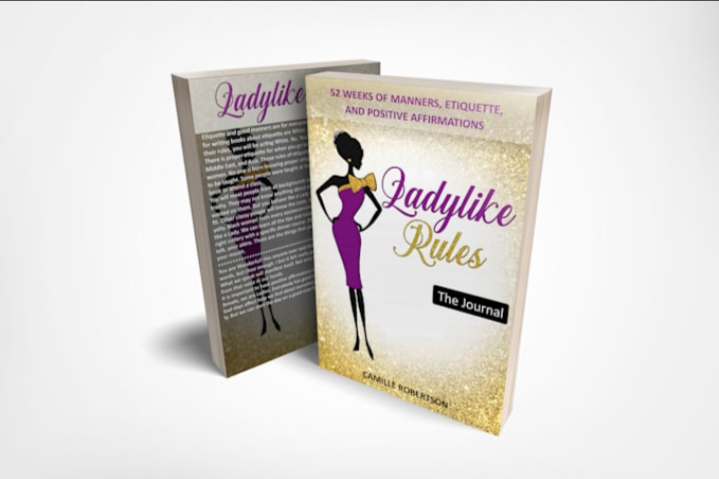 We have taken on our twentieth member of staff this week. Shabaz is an all-rounder and will be doing some book covers, typesetting and logos for us. Welcome, and we look forward to having you with us.
You can check out some of the new covers on BBE's book covers page here. Now is a great time to get your order in for your next book cover. We're adding some to this blog to give you a taster, but there are plenty more on the website.
We are running both a new promotion and a new service to use with your book marketing
Spring Promotion 2022
Great FREE Giveaway: For the foreseeable, every commission BBE takes will receive three reviews from three staff members.
New Service launch to help with your book marketing
How would you like an in-depth critique of your book?
This is not  a review to share with others. It would be a personal critique of up to 5,000 words. Though, of course, you can take the positive section and share it with the world for your marketing—in fact, we'll give you a positive-part link to use with your book cover (if you have one) or a relevant graphic if you don't. There you go—you get a FREE pre-pub/post-pub tool to use for your book marketing as well.
Send us your blurb and any 5,000 words from the book (usually from the beginning, but it doesn't have to be).
We will give you writing tips to make your writing stronger.
We will tell you the negatives of both your writing and your book first to get them out of the way.
We will point out words and phrases that you overuse (your darlings).
Then we will tell you what we like about it. This is what you'll receive in a BBE link for your book marketing, and we'll showcase it on the website.
Finally, we will make suggestions for improvement.
We will look at every aspect of your sample for storyline, marketability strength, and writing ability. Often our critique will be as long as the sample you send us. We have always given an in-depth overview with every book we edit. Now, for the first time, we will do the same in the form of a critique without submitting your book to us for editing. It can be for published books, complete works, or part works.
We will examine:
POV
Tenses
Spelling
Punctuation.
Grammar.
Sentence Structure.
Characterisation.
Plot.
Description.
Dialogue.
Pace.
Location.
Continuity.
Research.
This critique is not to blow sunshine up your backside and tell you how amazing you are. It will be an honest, positive & negative appraisal of your book and suggestions for areas of improvement.
When your book is published, you will get three Best Book Editor reviews from 3 members of staff as part of our free Spring 2022 promotion.
We can help you make your book fabulous—already fab? We can advise on making it better.
Get your orders in, and we will return your critique in 48 hours.
This is so new that it's not listed on the request form yet. Just put 'Critique Only' in the comment box, please.
https://www.bestbookeditors.com/request-a-quote/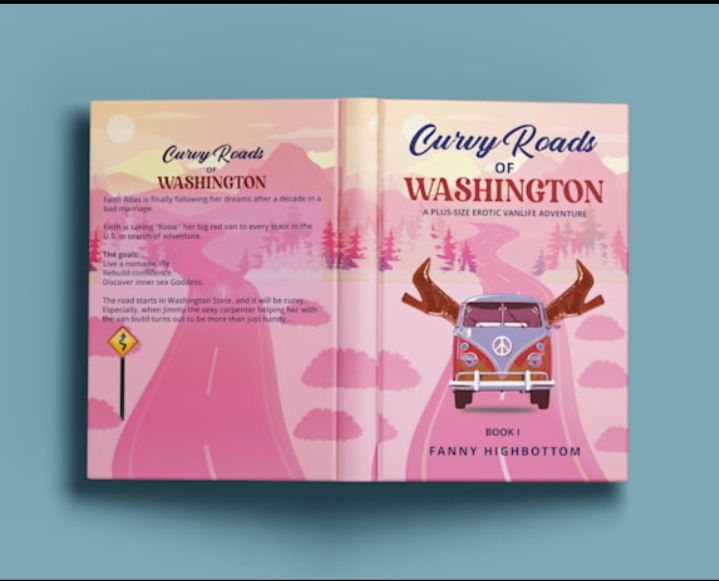 And now we'll pass to Laura for the rest of your BBE weekly blog.
Valentine's Day. Love is in the air and about time too. We've had too many negative issues going around the world, and you've only got to look back at my blogs for BBE to get an idea of some of them. I've stayed away from the issue of Russia, Ukraine and the potential for war today. This is the time for love. And what better time to showcase our Queen of Hearts, Amanda Sheridan, who features loads of them—hearts that is—all over her Valentine's themed posters that she created for the Featured Authors on the BBE group this month. Every member buying a Featured Author book—gets their own Featured Author day and a free gift poster. Here's one for her own book Rapid Eye Movement.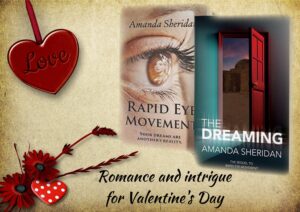 Amanda's been making these posters daily for group members who've won a Featured Author day by supporting other authors in the group. It turns out we're a supportive bunch, loved-up on the idea of helping others and being helped in return. Amanda reminds the Featured Authors to save their posters to use in all of their marketing. I'm going to make sure I use the stunner she made for me at every opportunity.
I need all the help I can get in the marketing department. I can't be the only independent author who felt overwhelming pride when my debut novel appeared on the virtual shelves of Amazon. Little did I realise that writing the book was the easy part. It didn't take long to hit me when my book was on page 535 of the Amazon bookshelves, and I had to be proactive in letting the world know it was there. Let the Googling begin.
Two years later, I'm on Facebook, with author and personal pages, and I'm a member of many groups. I've got an account on Goodreads and one on BookBub—another on BingeBooks. I joined Instagram in 2021 and have racked up 1100 followers. I want to open a Twitter account and build a website, but I never get around to it because I've got so many other things going on, and part of that is keeping up with social media and plugging my books. I'm trying to write another, several, but I'm not finished with those already in existence and doubt I ever will be.
Public-ity. Making your product known to the public, putting yourself on the market, hence the term, Market-ing. Take Valentine's day. The media is full of it in the run-up to mid-February. Shops, press, TV, Facebook, Google, my Instagram feed and places I've forgotten, or never knew about, are all filled with it. We're inundated with pictures of red roses, boxes of chocolates and bottles of champagne. And hearts, of course, the reason for it all. Restaurants are taking bookings for their Valentine's dinner menu. On the evening of the 14th, they will be filled with happy couples, young and old, newly-affirming or reaffirming their love for each other. Some will seal their feelings with a ring, as advertised by jewellers. Everything I've mentioned is brought about through marketing.
So marketing's necessary, it's feeling as essential as oxygen, but it can be an authors' nightmare. I've made many contacts and some friends on social media. Most of them are independent authors like myself. I know I'm not the only one that hates marketing and building our public profile. It's time-consuming and often a waste of time, like the blog I posted on Goodreads that rarely if ever, got read. Authors dream of somebody to make it go away or do it for us at the very least.
This is why it's worth considering Best Book Editors' Marketing for Life package. Like other authors, I don't have a great deal of money to throw around, but seeing how much they offer, £100 isn't going to break the bank.
The marketing package is called a Marketing for Life package, and though that sounds too good to be true, it's precisely what it is. It comes in three initial launch stages and gives you 24 different marketing and brand awareness splurges on social media. Then it moves to ongoing marketing for the life of your book—or the company.
The Best Book Editors Marketing Package will help fight the marketing war on my behalf, so I can get loved-up with my work-in-progress.
This brings us back to Amanda Sheridan and her books Rapid Eye Movement and The Dreaming sequel. Here are my reviews of them, sent with love.
LAURA LYNDHURST'S REVIEW OF Rapid Eye Movement
I don't know if anything like this has been written before, but if not, Amanda Sheridan has come up with an exciting and novel concept.
Jennifer, the heroine of Rapid Eye Movement, has hooked up with gorgeous Ilan and dreams of passionate love-making at her home in Cyprus. Meanwhile, in the British county of Yorkshire, Lucy has married Charlie and has similar dreams. The problem is that Jennifer is dreaming of Lucy's love life and vice-versa. What's going on?
The novel is well-written and maintained my interest right through, even though I hated how it ended because I don't like crying. The characters and their situations were well-drawn. I engaged with them, which is why I guess the ending hurt. I can't say any more on that without giving anything away, so I'll live with it and let other readers find out for themselves. I can't think of any reason for not giving this five stars. Five stars and a strong recommendation.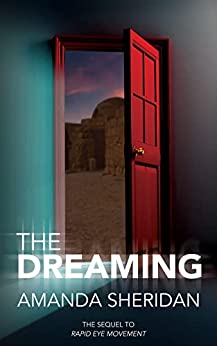 LAURA LYNDHURST'S REVIEW OF The Dreaming
In many ways, I preferred this sequel to Rapid Eye Movement. The ending was unexpected, but I have no qualms with The Dreaming.
Time has moved on, with Jennifer and Ilan happily settled in Israel. Or they were until Ilan was recalled for active service. Things don't go as planned, and Jennifer is pulled in to use her gift to help resolve the developing situation.
The story moves well, and the tension ramps up towards the end. I thought I had a good idea of what was going on from the start. I was supposed to, and I've read books concerning this subject. That isn't to say this book is like any other, Far from it, and Jennifer's skills are a novel concept. One the author should be congratulated for on dreaming it up.
This was a great read, a page-turner, well-paced and characterised. I thoroughly recommend it.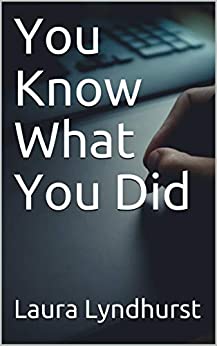 Thanks, Laura, for this week's blog.
We're coming on spring thank God. Trevalion, my adult iguana is sulking and waiting for the sunshine so that he can go out all day. He's a big boy, the size of a medium sized dog, and has his own door flap to come and go. He's free-roaming and has the run of the house. Yes, to answer the first question people ask, he is housetrained and has his own toilet. I would add a photo or two of him, I'm a very proud mamma. However, I only added this paragraph to separete the text enough from Laura's cover to be able to add an unrelated pic.
Grab a copy of You Know What You Did–it's a twisty thriller and a glorious study of bitterness and revenge.
The final word from me. Last year, I had a new book, Lizards Leap out and forgot to mention it in my blog until I was signing off. Last week, I had another new book out, Travesty; A Murmuration of Silence Book 1. My overworked memory was even worse than last time. I forgot to mention it in my blog altogether. So a week late here's my new book. It's the first book in a five series anthology, with over 400 pieces in all.  Early feedback says it's pretty dark and disturbing. Really? This was the gentle one to ease you in–I think it's pink and fluffy, but then I think Trevalion and Ravnica, my python, are beautiful. Travesty is a mixed bag and there's some of my softer side in there, you might have to move the odd corpse to find them, though.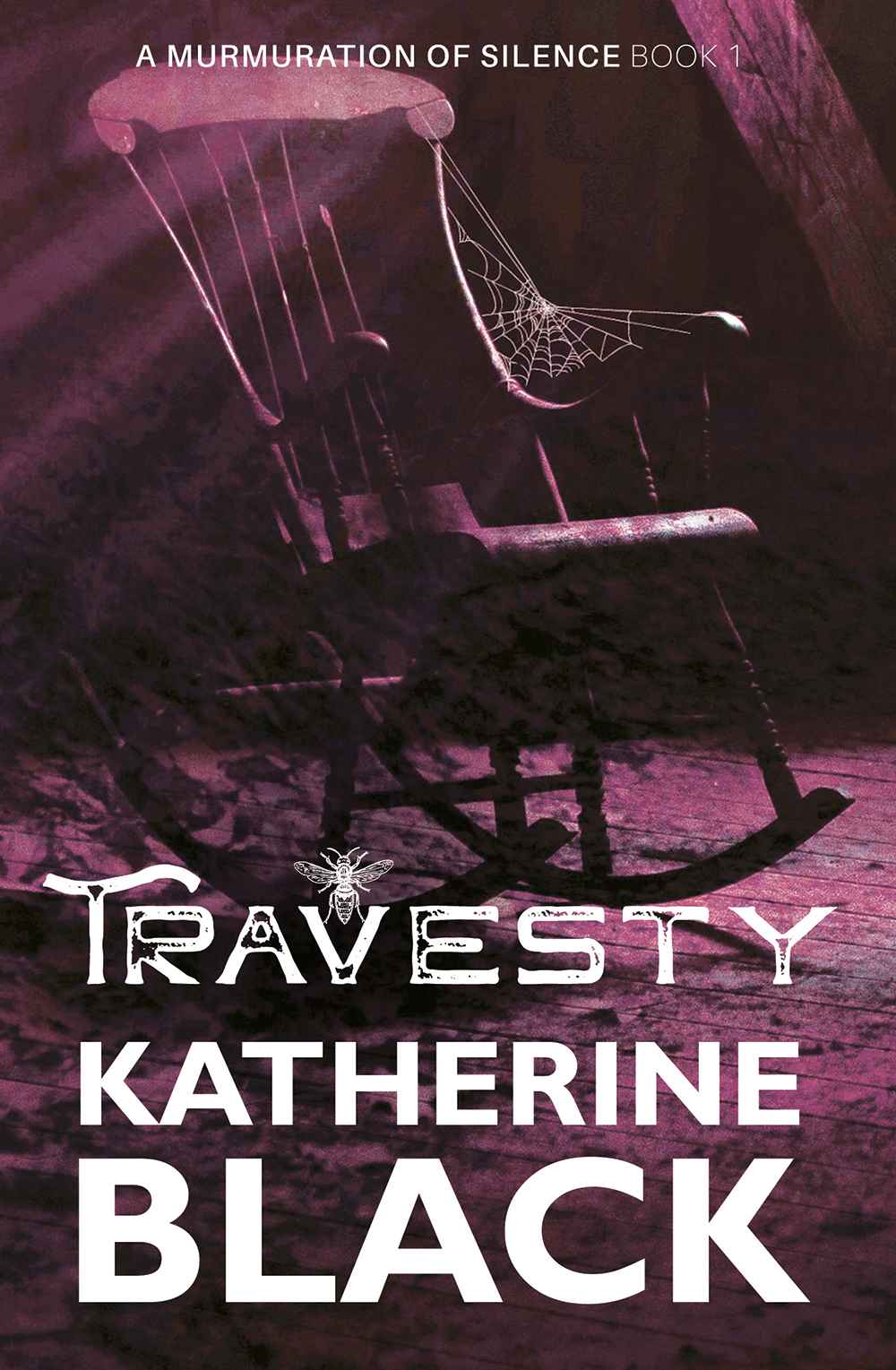 If you like the blog and want to coffee-break on more browsing, we work hard to keep the BBE website updated, fresh and exciting. Yes, you can access all of our services, but you can also just come for a sit-in during your break. We're taking orders across all of our services. Please see the links below. Five-minute writing tips and reviews are regularly updated if you visit our articles page, also listed below.
Website
https://www.bestbookeditors.com/
https://www.bestbookeditors.com/latest-news/
https://www.bestbookeditors.com/books-by-katherine-black/
https://www.bestbookeditors.com/what-you-get-for-your-money/
https://www.bestbookeditors.com/book-formatting-and-typeset/
https://www.bestbookeditors.com/book-cover-design/
https://www.bestbookeditors.com/illustrations/
https://www.bestbookeditors.com/marketing-and-promotion/
https://www.bestbookeditors.com/author-publisher-logo-design/
https://www.bestbookeditors.com/book-trailers-promo-videos/
https://www.bestbookeditors.com/author-interviews/
https://www.bestbookeditors.com/shop/
https://www.bestbookeditors.com/request-a-quote/
Facebook page
https://www.facebook.com/Best-Book-Editors-102025145430197/
Facebook Group
https://www.facebook.com/groups/625104781821119/?notif_id=1635265103733738&notif_t=groups_member_joined&ref=notif
Email
katherine@bestbookeditors.com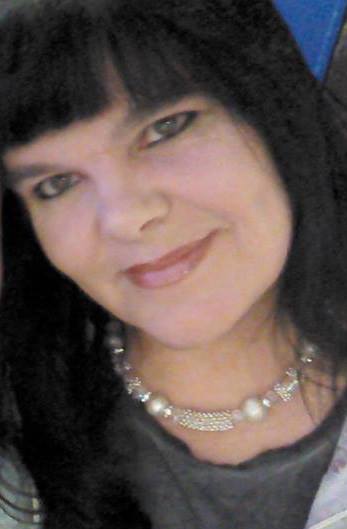 Katherine Black / Susan (Sooz) Simpson
Founder of Best Book Editors
Katherine has held almost every single job imaginable, from painting gnomes to zookeeper. She spent most of her life in the caring profession and has managed both a nursing home and a care agency. But her passion for the written language always brings her home to novel writing.
Born in Tyne-and-Wear, North-East England, she has settled in the beautiful Lake District, Cumbria, with her partner, two dogs, a cat, an iguana and a python (just don't ask her which of those six things is her favourite!).
She specialises in content creation and social media outreach, and has been a developmental editor for hundreds of clients. She owns and operates bestbookeditors.com where she helps foundling authors polish their skills. However, after being diagnosed with a dramatic brain condition in 2022, she has had to let 23 staff go, and scale back the business. BBE is still very much open, we are just fewer and can't take as much work on.
Katherine Black is the author of psychological thriller/detective/fantasy adventure novels.